There is no decision yet on the new minimum wages for 2021.
The representatives of employers and labour unions did not reach an agreement about the raise of the wages. The new minimum wages are usually published in a government decree before the end of December, but this time the compromise was not achieved in time. The employers are ready to accept an increase of 4%, while the labour unions insist on their reduced expectation of 5%.
There are two kinds of minimum wages in Hungary, generally applicable in all sectors. One is for jobs not requesting any qualification, mostly for the so called unskilled workers. This is currently HUF 160,500 gross per month for a full time employee, and proportionally less for part timers. The other kind of minimum wage, applicable for the majority of the jobs, is HUF 210,600 gross for full time employment. This is applicable for Managing Directors as well.
Since there is no change decided and published yet, these figures remain valid for January 2021. Once the agreement is reached, it can take effect from February at the earliest.
The chart below show the dynamic increase of the lowest possible wages in the last 29 years.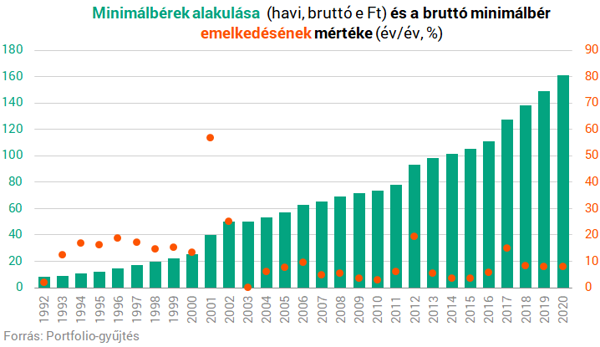 Source: portfolio.hu